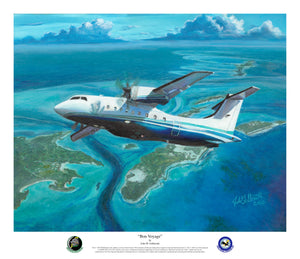 'Bon Voyage' Limited Edition Print 19"x 22"
'Bon Voyage' is the first painting in John Galbreath's Aircraft of AFSOC collection. Reproduced from the original 16"x 20" oil painting, prints measure 19"x 22"including a border. The Air Force's C-146A Wolfhound is depicted flying over the Caribbean Sea on a mission to resupply Special Operations Forces in South America.
Printed on acid-free fine art paper using archival, pigment based inks.
The edition is limited to 150 numbered prints and 15 artist's proofs for a total of 165.
Each print is hand signed and numbered by the artist.
The lower border includes a description of the aircraft and it's mission as well as the official emblems of both units currently operating the C-146, the 524th SOS and 859th SOS.